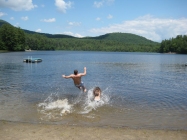 Wepa!
A CREATIVE LIFE, 2021
Mary Alice Riddle, a five generation New Yorker and Brooklynite, felt it was important that her son study Flamenco dance and play classical music at an early age. "Mickey" Martinez, a public figure in NYC, originally from San Juan, Puerto Rico, encouraged his son to read the classics, listen to opera and poetry, and train as an athlete. As a young adult Miguel Martinez-Riddle gravitated towards the professional study of art.
Over the years the artist supported his career first painting textile designs in the fashion district, and then picking up gigs in the theater as a carpenter and set designer, building furniture, restoring old houses, teaching tennis, Spanish and eventually college art.
After ten years of full-time teaching in a Tribeca design institute, the artist made the transition to full-time Catskill living. Trading city-life for a farmhouse alongside a creek in the forest, Martinez-Riddle had a lot to learn!
As Program Director for the Roxbury Arts Group in 2017, Martinez-Riddle visited the hills and valleys around Delaware County, learning its history, and meeting many residents. Having lived in Spain and Puerto Rico, and traveled across the U.S., he was not prepared for "two stones and one dirt", and realized hand tools were not going to cut it.
This important local lesson helped to balance his time, for listening to his daughter Selena talk about her days at Dartmouth studying English, visiting the woods with his two dogs Walter White and Pancho, and laughing, dreaming, cooking, painting and analyzing art with his longtime partner, the California painter/printmaker/professor Laura Sue King.
Miguel Martinez-Riddle has exhibited his paintings internationally, and continues to develop his historically unique color infused, multicultural and experiential, painting and sculpture.
Miguel Martinez-Riddle
was born in Brooklyn NY, and continues to live and work there, and in the Catskill Mountain Forest Preserve